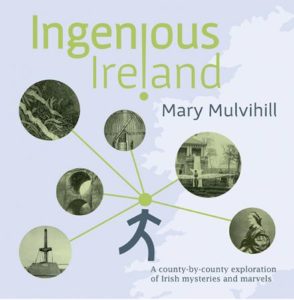 Mary Mulvihill's book Ingenious Ireland, first published in 2002, has been out of print for a number of years and has now been reprinted. Ingenious Ireland is a meticulously researched county by county description of Ireland's natural wonders and scientific heritage. It is now available here, from Four Courts Press.
Our quirky Ingenious Ireland audio tours and walking trails will make you go Wow! Enjoy our Dublin science tours any time, with our ingenious app and audio tours. Simply download to your phone or player, and you can take a great tour whenever you want! For a family outing, add one of our science activity trails — they are free to download.
I did this tour and wow it was brilliant! Great fun. I thought I knew Dublin but I learnt loads. Would recommend this strongly.
P Blair, Dublin
Audio Tours – From Dublin to the Hill of Tara, Barrow River & Beyond!
What do I need?
Our audio guides are the same format as podcasts:  MP3 files, that play on any MP3 player, such as an iPod.  Most mobile phones can play these files, also devices such as many e-readers and satnav devices.
You can download free tours immediately;  for our premium tours, we email you a secure download link when you buy the tour.  Each audio guide pack includes all the audio tracks, notes and user guides,  'zipped' together to make it easier and faster for you to download.  Simply open the zip folder, and load the audio on to your MP3 player.   You can be out and exploring in minutes.